2023 RENAISSANCE UNIVERSITY FULLY FUNDED SCHOLARSHIP PROGRAMME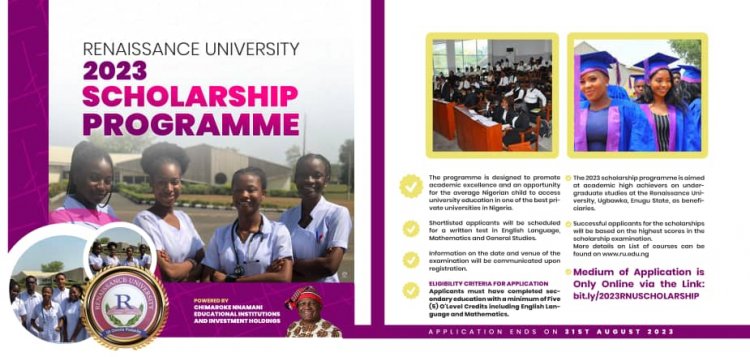 2023 RENAISSANCE UNIVERSITY FULLY FUNDED SCHOLARSHIP PROGRAMME
Chimaroke Nnamani Educational Institutions and Investment Holdings is pleased to announce the 2023 scholarship for the best students.
The 2023 scoholarship programme is aimed at academic high achievers on undergraduate studies at Renaissance University, Ugbawka, Enugu State, as beneficiaries.
The programme is designed to promote academic excellence and an opportunity for the average Nigerian child to access university education in one of the best private universities in Nigeria.
Eligibility Criteria for Application
Applicants must have completed secondary education with a minimum of Five (5) O-Level Credits including English Language and Mathematics.
The scholarship covers Tuition and living Expenses.
Application ends on 31st August, 2023
Shortlisted applicants will be scheduled for a written test in English Language, Mathematics and General Studies
Information on the date and venue of the examination will be communicated upon registration.
Successful applicants for the scholarships will be based on the highest scores in the scholarship examination.
Note that the scholarships will be provided for the courses offered in the following faculties:
Faculty of Law
Natural and Applied Sciences
Management and Social Sciences
Faculty of Health Sciences