Opening of University Portal for initail Enrollment for All Students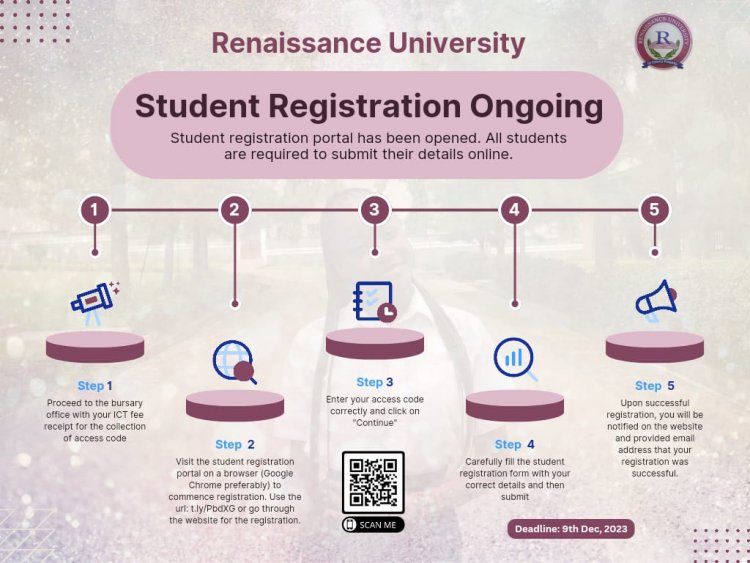 Dear students,
We are excited to announce that the student portal enrollment for the first semester has officially begun!
Here's a step-by-step guide to guide you through the enrollment process:
Visit the Bursary Office:
Please proceed to the bursary office with your ICT fee receipt to collect your access code.
Access the Student Registration Portal:
Open your preferred browser, preferably Google Chrome, and visit the www.rnu.edu.ng. go to the portal menu and select student registration.
Enter the Access Code:
Input your access code correctly "ACCESS CODES MUST BE ENTERED WITHOUT SPACES," and click on "Continue" to proceed.
Complete the Registration Form:
Carefully fill out the student registration form with accurate details and submit it.
Confirmation of Registration:
Upon successful registration, you will receive a notification on the website, and an email will be sent to the provided email address, confirming your successful registration.
All students are kindly reminded to complete the enrollment process on or before December 9th, 2023. Late registrations will incur penalties, so we encourage everyone to adhere to the deadline.
For any challenges encountered during the enrollment process, please contact our support team at [email protected] for assistance.
Note: This is the beginning of online course registration process, Students will now submit online-filled forms as against the old manual course form registration
Stay tuned for the announcement of the course registration commencement date.
We wish you a successful and fulfilling semester
ICT UNIT